About AWatch
The AWatch is a stand-alone smart-watch with cellular capabilities. This wearable device does not require a companion phone to take advantage of all of it's features. It runs a modified version of Android 4.2 to accommodate the small form factor and uses a 240x240 pixel 1.54" IPS display. The AWatch uses a micro SIM card and supports the following cellular frequencies: GSM/EDGE/GPRS (850,900,1800,1900 MHz), GPRS/EDGE CIASS 12, and 3G WCDMA 2100 MHz. The device is also waterproof for day-to-day activities.
Company
Device Name
AWatch
Product Release
August 2014
Price
€299.00 EUR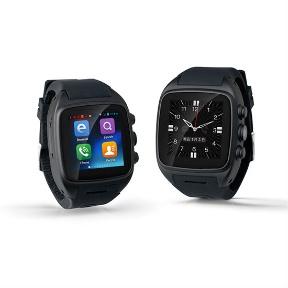 AWatch Network
Components
Accelerometer
,
Gyroscope
,
Magnetometer
,
GPS
,
Touch Interface
,
Audio Speaker
,
Vibrator
&
Button Interface
Power Source
Rechargeable Battery
Connectivity
Bluetooth
,
WiFi
&
Cellular Network
Compatibility
Android
,
OSX
,
Windows
&
Linux
Workplace Applications
Remote Worker Decision Support
,
Remote Worker Situational Awareness
,
Remote Worker Communication
,
Work Order Dispatch
,
Location Based Notifications
&
Workplace Safety
Applicable Industries
Mining
,
Energy
&
Construction
Workplace Usage Overview
The team at Vandrico has worked directly with the AWatch and considers it a viable option for piloting decision support and communication applications for front-line workers. Since the watch can operate independently of a phone by connecting to a central server over either WiFi or Cellular, it can be used as a reliable source of alerts and critical situational awareness. The watch is fairly rugged and completely waterproof and the battery can comfortably last through a full 12 hour work-shift.
Similar Devices
Relative Device Scores
Wearable Device Market
---
Missing a device? Have updates for us?
SUBMIT WEARABLE
Vandrico is not a re-seller of the devices in the database. If you are interested in purchasing a device, please contact the manufacturer directly.