Vandrico is proud to share some of our key knowledge and insights with the local and international community. On November 1st, 2014, Gonzalo Tudela, Co-founder and CEO at Vandrico, gave a data-driven presentation on how wearable technology will change our lives. Combining data from our database of wearable devices with research and consulting firms such as Deloitte, PwC, and Gartner, Gonzalo focused his presentation on current market dynamics and leading-indicators for adoption. This showcased a deep understanding of the sector and it's near-term affects on enterprise and our healthcare sector.
Vandrico would like to thank the team at TEDxSFU, and an independently organized TED-like event, for all of their hard work and dedication to such as successful event.
To view the 14 minute talk, click play on the video below: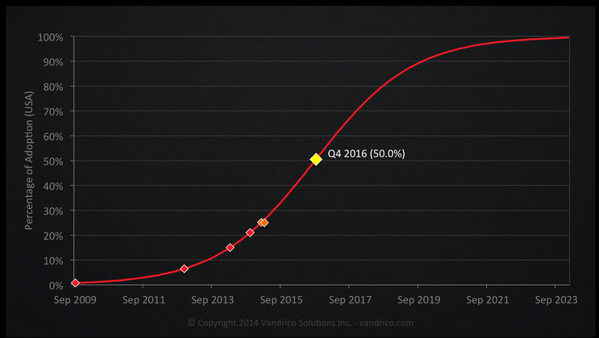 Note: The above image should help to add clarity to the projected adoption curve.